Yes, there's indeed going to be another expansion pack for The Sims. However, unlike the ones we know so far, this one's for the Console edition of the game. It's called "
The Sims Bustin' Out
". There will be new locations to visit, 40 new characters, 80 new social moves, and 10 new careers. This expansion pack will also be shown at the E3 next week. This is what's said about it in EA's list of E3 games:
"The Sims are returning to the console and this time they're getting out of the house and exploring all-new outrageous locations around town. Players can choose a variety of new paths as they lead their Sims through life's big moments. Along the way, players can unlock and collect hundreds of new objects and social moves exclusive to the console. Play, work, and socialize with a cast of more than 40 new wacky characters and climb through 10 new careers including Mobster, Athlete, Mad Scientist, and Fashion Victim. The Sims Bustin' Out will feature two-player and memory card support, so bring your Sims over to a friend's house. The game is scheduled for release on the PlayStation 2 console, Xbox, and the Nintendo GameCube™ in early 2004."
You can read the whole press release
right here
at EAGames. It's certainly something to look out for if you have The Sims on one of the consoles. This expansion pack is in development for PlayStation 2, GameCube and X-Box simultaneously and will be released early 2004. Quite a wait, but it looks like it's worth it.
[Update 23:30]
The
official site
(of the PC version) has also posted the press release, along with one screenshot, as late SimDay item. We're showing it below. For the press release on the official site, follow
this link
.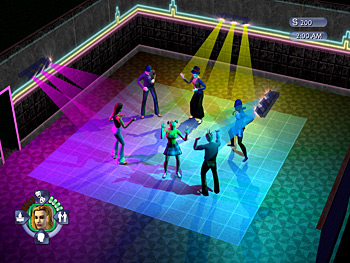 Written at 00:02 on Friday, 9 May 2003 by
ChEeTaH
.