Welcome back to The Sims Zone! As you can see, we've totally changed... everything. There are search functions for the
news
,
community news
and the
files
. The files now also have two special categories: the 25 most
popular
, and the 25
newest
files. Also, to protect us a bit more from getting tons of viruses each day, there is now an
e-mail form
, which you should use if you want to contact us. You can also send attachments (of up to 250Kb) using that form. We've been going through most of the content, and all links to pages that don't exist anymore should have been fixed. If you find a dead link in some old content, please
e-mail me
. Did I forget anything? Ah, yes, the design. We hope you like that too, it's taken us quite some time. The new system we're using is rather more reliable, and simply better. It allows us to make even more cool features in the future.
As we've been offline for over a week, you may have missed some news. A round-up of that news is inside...
TSO Interview:
The Armchair, a gaming site, has posted an interview with Chris Trottier about The Sims Online. Chris is a designer of The Sims and TSO. For the whole interview,
click here
.
The Neighborhood Handler 4.01:
A new version of The Neighborhood Handler was released last wednesday night to the group. This version fixed a few bugs mainly in the copy and moving of back-ups or neighborhoods. You can join the group and download the new version
here
. Otherwise, wait a day and it'll be released to the public.
SimDay 27 February: Object and Interview:
[Update 12 March, 18:45]
One SimDay was missed out initially, but it was a nice one. The
official site
brought us a new object, the Disaster Fizz Automated Vendor. It has a nice SimCity 4 look and sells "Disaster Fizz Carbonated drinks" to your Sims. It requires the original game with any expansion pack, or The Sims Deluxe. It's 1.37 Mb big and can be downloaded from
Get Cool Stuff
. They also posted about the interview about Superstar with Jonathan Knight, which we told you about before this site was taken down. More information about that can be found
here
.
SimDay 6 March: Superstar Screenshots, TSO Press Release:
The official site gave us 5 new screenshots of Superstar last week. Although it doesn't show too many real new objects (mainly recolours), there are a few. You can check them out
here
. The other part this SimDay was a press release about TSO: it's now possible to trade items with other players in the game. You can read all about it
here
.
Superstar Boxshot and Release dates:
ToTheGame
has put up two things about the new Superstar expansion. First of all, there's now a US release date: 13 May. Europe can expect it 23 May, which is 1 week earlier than expected before. There's also a boxshot, which you can see below.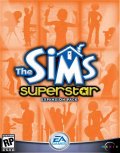 Superstar Preview:
To round up the Superstar news, there's a new preview of the expansion pack. It's a short read. Spend a little time
here
if you're interested.
That wraps it up for the past week. Some things might've been missed out, but please forgive us for that. From now on, the news posting will resume as normal. Welcome back, we hope you'll have fun here again!
Written at 01:00 on Wednesday, 12 March 2003 by
ChEeTaH
.