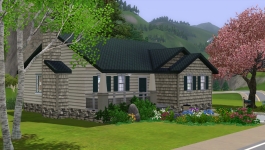 The first in a series of Bungalow style homes that fit nicely on the lots of Pinochle Point in Sunset Valley.

This is a small home with 2 bedrooms, 1 bath and driveway for 1 car.

The fireplace is unique in that the red exterior bricks will not be shown to clash with any exteriors of the home.

To download, click here!

For a list of all my creations, click here!

Enjoy!
Written at 01:26 on Friday, 30 October 2009 by TammyB.