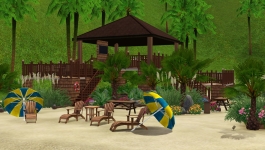 I felt that Sunset Valley should have a beach that offered much more to keep sims entertained than just being able to fish.

Nu Strand Beach was created to offer an awesome 3 level bar complete with HDTV! Off the covered bar area is plenty of seating for the sims who enjoy ocean views and sunshine.

Other amentities include an area for chess lovers, spacious bath house, foosball, a fire-pit to gather around with your friends, and a boom box if you should feel the need to get your boogie on. And of course, salt water fishing areas.

To go straight to the download, click here!

For a list of all my creations, click here!

Happy Simming!
Written at 23:37 on Saturday, 17 October 2009 by TammyB.