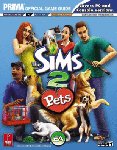 Prima Games
is the publisher for all the official strategy guides for the Sims yet. The Sims 2 Pets is no exception, and so Greg Kramer, who has written previous Sims 2 guides as well, has now written one for the Sims 2 Pets. Over 352 pages cover the PC and Consoles (PlayStation 2, GameCube and PSP) versions of Pets. The guide contains help about creating pets, discovering the keys to developing the behaviour of pets, and as usual the tables with descriptions of the new objects aren't left out. Finally the guide also covers the genetics of the pets. More information can be found on the
product page
at Prima's site.
Some people have already received the guide, and information from it is being posted on the web. Rosierealea has put
cheats
online, including some to take over the minds of pets, disabling aging, deleting specific items on a lot, and more. She also answers many
questions
from the book. She covers the items in the game, the new families, and more. Other threads started by her also give more insight in the game. You can purchase the guide from our
online shop
.
Written at 03:48 on Thursday, 19 October 2006 by
ChEeTaH
.