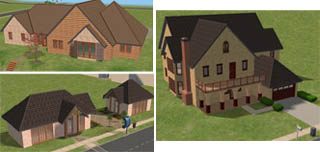 I've added five new lots today - three residental and two community lots for businesses. As some of you know, I like to play without the money cheat, so all these lots are good values (pretty cheap!) for the square footage. :)

I created the two community lots for my game as well and, consequently, they are admittedly and purposefully very simple. Both turned out to be easy start-ups for young sims, so I thought I would share them too.
Happy Simming!

You can find all 5 lots under my section:jendea.
Written at 02:02 on Saturday, 1 April 2006 by Jendea.