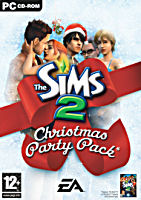 To whet our appetite until the release of the third expansion pack, EA/Maxis has released the Christmas (or Holiday) Party Pack containing many of the previously released items from the official site but also 40+ new items and textures.

This pack contains new architectural objects, walls, floors, decorative, electrical and party objects. Find out what we have to say about what is novel, what is repetitive, what are "variations on a theme" and what we would have liked to have seen but didn't.

You can find what we have to say right here .
Written at 16:00 on Sunday, 20 November 2005 by Andy.