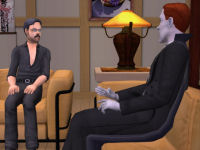 For the fifth and penultimate part of our NIGHTLIFE review, I get to explore the weirdness of this expansion pack.

I look at the new services offered by the Gypsy Matchmaker and I get to have an indepth interview with Count Skylar Sim about the life vampiric.

Get stuck in right here!
Written at 21:00 on Sunday, 16 October 2005 by Andy.