Requirements
If you bought Sims 2 originally on CD and then bought all the expansion packs after it (also on CD), then you'll appreciate what a chore it really is to reinstall everything. Having to change the CD every five minutes, having to watch a little green progress bar creep up the screen, wearing out your precious CDs?
You could go out and buy the DVD-ROM edition of the base game, this would solve the issue with the first four CDs of installation, but that still leaves the issue of swapping the other six CDs in and out all morning, plus you get a bunch of extra content that you may or may not want.
The other alternative is something like this: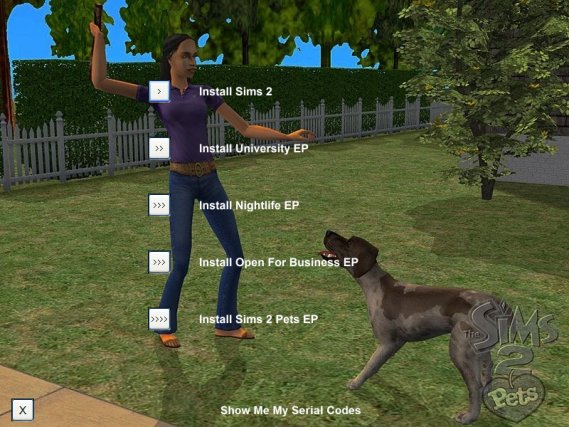 A makeshift front menu - click a title to install it.
And this extra shows you how it was done. For the benefit of the extra, the base work is already in place, you just need to copy your Sims CDs to the correct places.
Legalities, Notices & Pre-requisites
Very
important notice to made at this point in time:
BE ADVISED THAT THIS EXTRA DOES NOT (AND IS DELIBERATELY NOT MEANT TO) CIRCUMVENT THE NEED TO INSERT AN ORIGINAL CD WHEN PLAYING THE GAME, IT IS ONLY FOR CONVENIENCE WHEN INSTALLING SIMS2 + EXPANSION PACKS. YOU WILL STILL BE ASKED TO INSERT (THE ORIGINAL) CD 4 IN ORDER TO APPLY THE PATCH FOR THE ORIGINAL GAME.
You are also strongly advised not to throw away your original Sims 2 CDs after making your custom DVD. Because Murphy's Law says so.
This guide is primarily aimed at Sims players who bought the original 4 CD set, but those of you who bought the DVD base and then expansion packs on CD should be able to use the guide from the EPs onwards.
The guide requires a medium amount of computer literacy - its not difficult as such to click in the right places, copy & paste and twiddle your thumbs, but then again the guide isn't going to hold your hand and point you at absolutely everything that needs clicking.
What you need:
DVD Writer - most computers have them now, if not you can pick one up from any decent computer shop for practically peanuts now.
Software: (click the titles to go to download pages, these all point to other websites)
Izarc (optional under XP but makes life slightly easier)
Daemon Tools (for testing your DVD before you burn it properly)
CD Image GUI - to make your DVD (never mind its name)
You also need the Base pack - go to my Files section on this website to grab it.
Written at 00:43 2006n Monday 20 November 2006 by Neil.
Last updated at 12:38 2006n Sunday 26 November 2006.