Introduction
Hot Date is one of the better expansion packs of The Sims. As well as adding all kinds of interactions and things, it also adds the Sim God's ultimate space-saving device: Ceiling lights. This three part tutorial will show you how easy it is to build your own downtown lot that functions just as well as the default ones. This time round: The restaurant and bar.
Good downtown areas have three basic sections:
1) A place to eat
2) A place to have fun
3) A bathroom
This editorial/tutorial assumes that you have knowledge of how to build and place stuff in The Sims. To get to the Downtown area before you send your sims there, you can click on the Downtown icon at the top on the Neighbourhood screen. We're going to be working on Lot 23 which is the one top right. Please be advised that there is no right way to lay out downtown so feel free to ignore everything you're about to read.
Lot 23 - The Beginnings.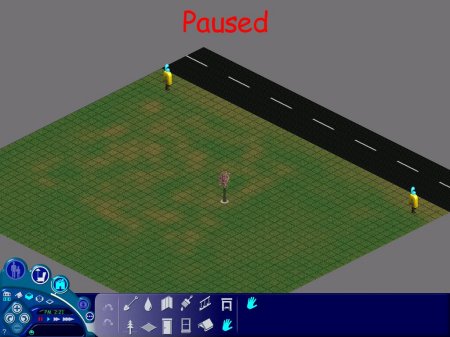 Lot 23 out of the box: Two phones and a tree. Not a lot happening here.
This is what you get to start with; a big green tiled area and a shabby looking tree in the middle of it. We're going to transform this plot of land. How? Stay tuned. Take note that there are no money restrictions when you build downtown so feel free to go wild.
First things first: if you ignore everything else I write, please take heed of this first bullet point:
You MUST keep the telephones, otherwise you'll have no way of getting back home when on a date.
You can use most of the entire squared area to build on.
Depending on your personal preference or look you're trying to achieve you may wish to use the grass tool to remove the sandy areas for outdoor areas. Since we're going to carpet over it I shan't bother.
Building The Walls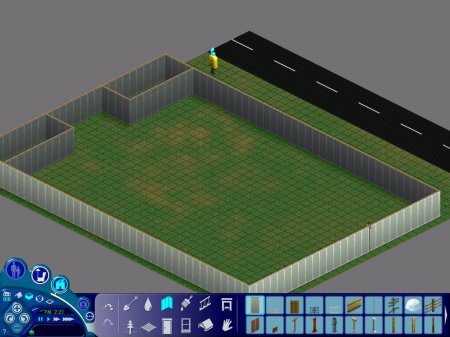 This is our framework - the outer walls. I've left a gap between the road and the start of the building for decoration later. Here is where the toilets and the kitchen will go.
You'll do better if you have a plan before you start building. You can see here that I've built the outer shell of our new downtown home, these are the master walls that we will start with. You can always change and remove them later as your thoughts evolve. For this editorial, I've decided we're going to build a multi-activity area: A restaurant, a dance/party room and a bar and some entertainment in that area too.
Building downtown follows the same rules as at home; a wall is the start of everything.
We've zoned off two small areas; these will be the public bathrooms and the kitchen. We'll add some windows later. Bathrooms are always public downtown.
More is usually less but not when you're downtown. High traffic areas require more room to travel, it's not uncommon to see three or even four sims walking abreast for something on occasion. Unless you want them to get stuck regularly, plan ahead.
Before you ask, by default there are no objects available to you downtown to restore energy, hygiene or room (which, if it is low, tells you there is something wrong with the room).
Furnishings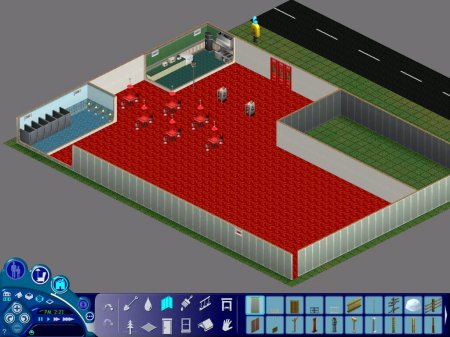 This hasn't come out very well but the basic idea is that this is all you need for a restaurant to function.
And here's all you need for a restaurant: A podium or two, a kitchen with a fridge, stove and storage space in it (microwave and toaster not strictly needed but handy as an alternative if the stove is tied up) for meals.
A lick of paint; decor is strictly your choice - Sims don't care how you do it as long as its done, and downtown there is no excuse. You can see we've added six tables and some chairs to boot. Also present: two podiums, six toilets and four wash basins for our bathroom.
To finish: A door or two. Essential, we reckon. The room is lit despite the lack of windows because there is a section of wall missing, bottom. The new hanging lights in Hot Date are brilliant. Space between the tables is a must.
Sims cannot clean up or use the kitchen utensils when downtown.
It is recommended to use the most comfy chairs available; remember, money really is no object downtown.
Be aware that it's not just other sims who will come by your table; expect to see waiters, the ministrel, the maitre'd (if applicable) and what not too.
If you use the rental shack, the gamekeeper will rush in on occasion to use the toilet.
Windows & Cutouts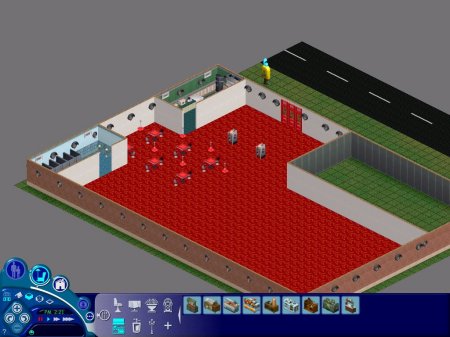 There are no doors on the bathroom or kitchen based on the idealogy that they are high traffic areas.
Patching the wall, we add many windows to provide natural light (although you can achieve the same effect with copious hanging lights) and hacked a couple of sections of wall out to make doorways.
The difference between this and normal doors is apparent; the bathroom and the kitchen is now considered as part of the room score and Sims are free to enter/leave anywhere between the sections of walls. Just more efficient, really. You may be wondering why Sims would be in the kitchen; you'd be surprised where they decide to stand while queuing.
Anybody For A Drink?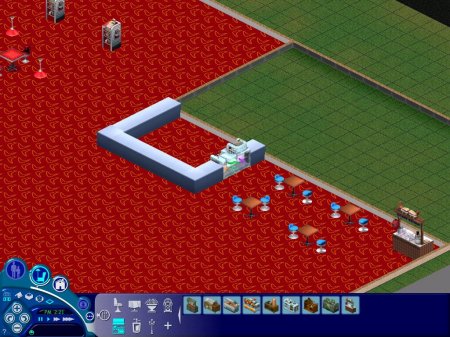 It's not strictly necessary to box the barman in, it just looks neater.
Now we'll put a bar in; this particular one will give you Wayne. We've tried to separate the bar from the main restaurant area by putting it on the other side. Sims, however, will usually just sit anywhere they fancy. Four tables, eight chairs and a sushi bar thrown in for good measure.
There's no real need to have a separate area for the bar if the restaurant area is near enough; if you have enough seats you'll usually find that they double up. Sims will sit down to eat from the sushi bar so it makes sense to have seating around here.
Final Answer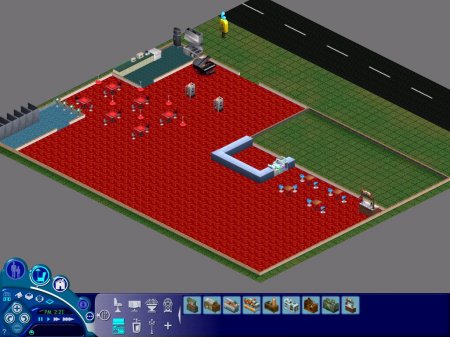 This is what our downtown area looks like at the moment. We'll swap the chairs out as well for next time.
And this is the result of this tutorial to date. This setup will now give you two podium attendees, two chefs, the busboy (comes with the dishwasher), the bartender, bargirl (with the bar) and the sushi bar worker.
The dezoned room will become a party haven in the next editorial. We've also tossed in a piano so as not to have to listen to the annoying ministrel with his glove puppet.
Written at 23:16 2004n Thursday 22 July 2004 by Neil.
Last updated at 10:24 2004n Monday 25 October 2004.