Introduction
We've met the Jones and seen them settle into their new home. It's 4.16am on Tuesday morning and Anne is unclogging the toilet, which seemed to have got a lot of use the day before. A messy job but she does get some cleaning experience. However, our focus for the next ingame day is going to be on Ryan and the joys of teenage life.
A Teen's Day
School for teenagers is two hours shorter than it is for children. This is to encourage them to get a part-time job. Ryan currently works as a water boy for a local athletics team, which is the bottom rung of a 3-stage career track that is available only to teens and elders. There are two drawbacks with teens taking a job. Firstly, they are often too tired to do their homework. Secondly, their parents and other relatives expect too much.
A Wanting Mother
Anne is no exception. Please excuse her as she unclogs the toilet which got a lot of traffic yesterday.

Despite her aspiration being knowledge, most of her wants at this time are for Ryan. For him to get an A+ report card, to play with him but above all for him to be an overachiever, which means being successful in his part-time job as well as being an A+ student.
A Slumbering Teen
Back to the star of the day.

His wants including getting a body skill point and a mechanical skill point as these are the skills required to help him get a promotion.

He wants to make §100 and also to get to private school. If his mother supports him, he should have a bit of a chance.

The life of a teen is 14 days before he ascends to adulthood. You can find out how long anyone (apart from Elders) have left until the next stage by hovering your mouse over the age bar. It may not seem long, but it is long enough, however, to experience the pleasures and pitfalls of being a teenager.
School v Work
Although Ryan has a part-time job, this does not excuse him from going to school. Nor does it excuse him out of doing his homework. If his grades slump, then he loses his job. Therefore, in order to be a major success, you need to get to school and do your homework in order to help the grades rise. That way, you keep your job and become a more successful teen. I can tell you straight that this is not an easy thing to do.
Tuesday Morning
By 4.42am, he is awake and reading a book on practical mechanics. With a bookcase, you can study mechanical and cooking. From the bookcase, you can also read a book or even write in your diary.

In just over an hour, he has done it and learnt the basics to impress those at work in that regard. 1,000 achievement points are a nice reward for an hour of hard work.
Anne prepares cereal for the household and chats with Ryan, whose eating habits are closer to the pigsty than dining at the Ritz.
8.45am and Ryan finally jumps onboard the schoolbus. As with TS1, if you are out of the door in the same hour of the bus (or carpool) arriving, you will still make it.
I am of the opinion that there is a breakfast club at the school or a buffet on the schoolbus as somehow your school kid's hunger gets topped up almost immediately they head out to school..
Bills Bills Bills
10.30am and the mail carrier delivers the first bill. Bills arrive on Tuesdays, Thursdays and Saturdays. Bills appear to be less than in TS1 but still require a lot of attention. Pay them immediately if you can.

This is Dagmar Bertino, who is an attractive representative of the SimCity Postal Service. Apparently, one very skilled lady. Therefore, if you want her to give up this job and move in with you, she could shoot to the top in almost any career, skillwise.
Report Cards & Homework
| | | |
| --- | --- | --- |
| | 1.13pm and Ryan is back from school with his report card. If it is good, he'll show it off. If it is bad, he'll try and get rid of it. In this case, it is mediocre. In order to improve it, he'll have to do his homework. His first priority, however, is his job. | |
After a quick shower, he's off to work at 2pm. As the ambulance dropped Anne off at 2pm, it's doubling as the carpool and waiting for Ryan so it can drop him off at work on the way back to SCGH.

Knowing Ryan, he'd probably want the driver to turn the sirens on for him.
Chance Cards
We don't see Ryan at work but we did get word of an incident involving a fight involving the Mascot. This was an example of a "chance card", which a lot of different career levels have. There are three options including ignore. This is what Ryan chose, and actually worked to his advantage. Some "chance cards" are no win situations, in some the wording is ambiguous. If unprepared to take a risk, choose ignore.

In the best cases, a good decision on a chance card gives you a promotion without having the required skills and friends. In the worst cases, you're emptying your locker or clearing your desk.
Promotion
By getting the extra body point from the chance card, Ryan had the required criteria for promotion.

Again, promotion appears to be random but with job performance influencing it somewhat. With a nice little bonus in this pay packet and aspiration points for coming home with §100, he is now a Locker Room Attendant.

However, Ryan still has homework to do. He also needs fun and energy and is therefore in no mood to do it right now.
Burning the Candle
Ryan needed to have some sleep before he could get down to doing his homework. Fortunately, Doug was still up and was able to give his son a helping hand. If a parent or other family member helps with homework, a child or teen does it twice as quickly. It doesn't seem to be skill related.
When the work was done, spinning books appeared over Ryan's head signifying a job well done.
Encouragement
Your children and teens can be encouraged by those in an older age range than them - adults or elders - towards different extremes of character. This can lead to them having more than the default 25 personality points. Effectiveness depends on the difference between the ages. A parent trying to his teenage offspring to be neater is going to have a far lower chance of succeeding than a grandparent doing to same to their grandchild.
A New Day, A New Image
Ryan was tiring of his appearance and no longer wished to have the Bono Costello look. If you've got a choice of clothes, them, you can change your clothes at a dresser or wardrove. In order to change facial appearance, which is a welcome addition to TS2, you can use the mirror. This is a feature that applies to all ages.
With a mirror, you can check your appearance, practice speaking, practice romance, gussy up, change appearance and one other interaction that is only available to teens. Apply acne cream. Yes, your simteens get zits and horrible ones as well. I'd love to know whoever came up with this idea and shake their hand. It's beautifully wicked. I'm not quite sure of the social consequences of it.
Despite your genetics, you can change your hair colour from the mirror. I'm not sure if this passes onto the next generations. You can't change your skin colour, though. So much for getting a tan.

Anyway, Ryan plucked his eyebrows, had a shave that got rid of his stubble, applied some eyeliner, got rid of the hat and glasses, bleached and tipped his hair and adopts a psychobilly style. Appearance has no effect on how people react to you. Now if only life was like that.
And Here Is A Teen I Made Earlier
In one day, we have only brushed the surface of a Teen's life. I could be playing for a week for Ryan to get his first kiss. Instead, here are some teen events from the life of Ophelia "Filly" Thewlis, who is another of my teens.
Filly was horrified when she came down with acne, but managed to treat it in time for her first kiss from Randy London, a townie teen. When they sneaked out one night, they were unlucky in being caught and brought back in a squad car.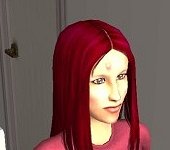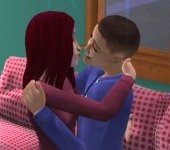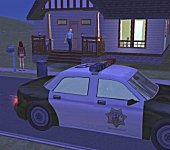 To Be Continued ...
Tuesday has turned into Wednesday. Ryan has got to school, Anne has got to work, Doug has found himself that opening in politics as a campaign worker and even Elizabeth has a part time job in the political field as a door to door poller.

Also, Doug has a new want ... and hopefully he might persuade Anne to go along with it. Elizabeth will do her best to encourage Anne as it is something she wants too.

Doug wants another child.
Written at 02:43 on Wednesday 29 September 2004 by Andy.
Complete Editorials Listing