Introduction
Doug and Anne have had a baby girl and Giselle has now evolved into a toddler. This part of the review looks at the life of a toddler, the changes necessary from babyhood and how to prepare her for childhood and with some help from getting what you want.
A Toddler's Life
What can I say? I love toddlers ... but I couldn't eat a whole one.

Seriously, I find this age range to be the cutest of all of them. Their facial expressions and their animations just make me go "awwww". Yes, I admit it, I'm a softy and I really like this stage of life for sims.

Babies are comparatively boring whereas toddlers are a lot of fun.
Tiny Aspirations
You could not directly do anything with a baby. A baby was completely dependant upon others to do anything. Apart from them screaming their lungs off and the tell-tale green vapour indicating someone smells stinky, all you could tell about their state of wellbeing was the colour of the background surrounding their icon on the left side of the screen.
| | | |
| --- | --- | --- |
| | Toddlers can be directly controlled. If they are hungry, they can attract adult's attention for feeding or just for a fuss. You can direct them to move around the house. A baby would just lie there and gurgle but toddlers can move around and play with toys and interact with other things. Giselle loves playing in the water in the bathroom. | |
Toddlers also have the aspiration to grow up. They also have wants and fears. You don't get to see their totals but do get to see if they go golden or platinum in getting what they want. There are a lot of interactions that a family member can carry out with a toddler and their wants and fears can be based around your toddler.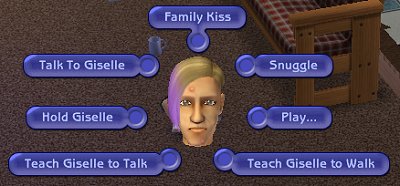 Depending upon the level of relationship, toddlers can react favourably or negatively towards interactions as of any other age. In this case, Giselle is quite happy with Ryan playing with her.

Also, objects can have interactions linked to the toddler as can be seen by Doug giving her a bath.
Some of a toddler's wants are based around accomplishing three tasks they have to achieve in order to move successfully forward to being a child.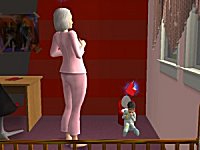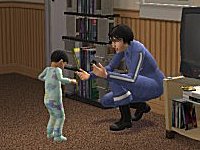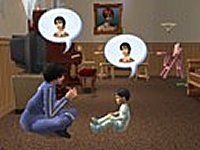 Be Potty Trained
Learn to Walk
Learn to Talk

Helping your toddler learn these may also be wants of other members of the family. In all three of these tasks, there are some aids that can help your toddler learn and for you to be a better teacher, thereby making things a lot easier and that comes from cashing in some of those well earned reward points. If you don't want to spend your points or haven't got any to spend, that's alright but it may be a lot harder to accomplish all of those tasks.
Assisted Learning

| | | |
| --- | --- | --- |
| | To make your toddler more receptive to what you are trying to teach him or her, feeding them with special bottles makes them glow and learn at an accelerated rate. If the person preparing the bottle has a red aspiration level, the milk is soured and the toddler's learning is hampered. It costs 7,500 points for 5 bottles and as Elizabeth got 8,000 points for having another grandchild, we'll let her pay for it. | |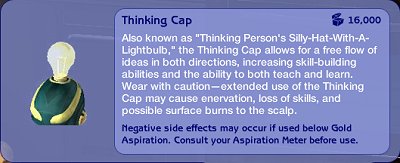 If a family member's aspiration bar is gold or platinum, wearing a thinking cap helps him or her teach the toddler a skill at twice the speed. A thinking cap lasts for 24 hours so when it is not in use and you are not in platinum or gold, take it off. It costs 16,000 points and is not limited to teaching your child. It can be used by teens, adults and elders. As Doug seems to be doing quite well, he can pay.
If you are using both of them, a toddler zips through the learning process ... in theory.

As there are reward points for training your toddler to walk, talk and use the potty, these are points well spent and soon reimbursed.
Learn Through Play
| | | |
| --- | --- | --- |
| | Do not hesitate about buying your toddler some toys. As well as making their room or your living room look realistic with toys all over the floor and bringing a lot of pleasure to your toddler, they can be educational. The toy xylophone gives creativity points, the "shake, rattle & roll" blocks set gives logic points and the "wobbly wabbit head " gives charisma points. | |
As Giselle is glowing from using Smart Milk, her learning rate on the wabbit was doubled. This effect would apply to whatever objects a toddler was using while under the positive influence of Smart Milk.
Other Niceties
Your toddler can be put in a high chair and sit at table with the family. She can be fed food or bottlefed while in the chair. If she's not getting what she wants, she'll let whoever is around know about it.

She can also play with her teddy bear or the toybox and although these don't add to any skills, they do help with her fun score. And you can also read to your toddler.
First Aging Alert
| | |
| --- | --- |
| | This life stage does not last forever. Awwww. A few days before, you are reminded that your toddler is going to grow up. This is a time when a party might be a good idea. As the time gets closer, having the toddler's well being at heart is even more important to family members. |
Doug wants to throw a birthday party and also wants Giselle to grow up well, Elizabeth also wants Giselle to grow up well and for her to know how to walk, Anne wants Giselle to be able to walk. Ryan ... well, he's just expecting people to buy really expensive things (hmmm ... that sounds like a teenager I know).
And what does Giselle want?
She wants to walk and talk and for Anne and Doug to play with her.
In the last days, Giselle reaches her three landmarks. Elizabeth has been influential in her potty training and Anne has been influential in her learning to walk and talk, which gives them some aspiration points for achieving certain wants.
Giselle's First Party
| | |
| --- | --- |
| | The day before, you are reminded at what time your toddler will grow up and it is hinted that a birthday party might be a good idea. As Doug wanted to organise one, he's quite pleased with that suggestion. |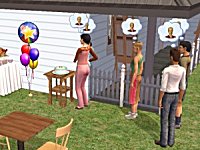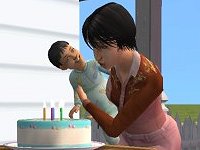 The party begins. Everyone takes a day off work in order to be there. Doug has invited a few of his friends over and buys a buffet, some balloons and a birthday cake. The party goes well and just before the end of it, Anne takes Giselle to the cake. Giselle blows out the candles and metamorphoses into a child through an ingame cutscene.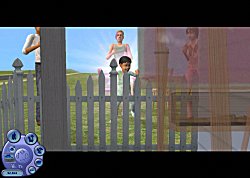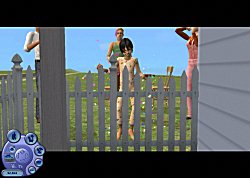 To be continued ...
Giselle is now a child and has had a great party. Unless otherwise assisted, she will be remain in this stage of life for 8 days. However, we will look at that in greater detail in a later part.

The house is now getting quite crowded and the rest of the family are not getting any younger. Ryan is soon due to become an adult and Elizabeth does not appear to be long for this world.

Will the other events in the house interfere with Giselle's development?
Written at 02:43 on Wednesday 29 September 2004 by Andy.
Complete Editorials Listing