Hosting... what?
[Update] Note: The Maxis Hosting plans habe been cancelled. It will NOT be possible to get your website hosted by Maxis anymore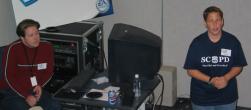 As announced in a chat on a SimDay in October, Maxis is going to host fansites. In the past many good sites, especially with The Sims, were simply taken offline because the huge amount of traffic and costs that came with it. Basically, the sites died because of their own success. This is still happening, and many sites are struggling to get the income to pay for hosting and other things. Advertising doesn't work, and donations don't help too much either. Hence Maxis is going to provide free(!) hosting. You will get real unlimited disk space and bandwidth, thanks to special contracts Maxis has. You can be hosted on either a Windows or Linux machine, with several scripting and database options like PHP, MySQL, ASP and CGI. Registering your own domain through Maxis is possible too. The servers will have daily back-ups, 24/7 monitoring, and the server software will be kept up-to-date. Other options when hosting a fansite at Maxis will be mailing lists, so you can easily tell your users the latest news using e-mail. Configuring and monitoring the domain is done using a control panel.
How?
If you want to participate - after it's launched - is simply filling out an online form. You will be sent an agreement, which has several legal thing in it. These include that adult content will not be allowed (it has to be teen-rated), and you may make no money using your website (i.e. no ads or donations, at all). Besides that, the site should be completely focused on one of the Maxis games, e.g. The Sims, The Sims 2 and SimCity. If you want, you can also just use the servers for the storage of your files, and keep the site itself running from a different server.
At the start, Maxis will host websites only on servers located in the US. As European webmaster, you can still host your site with Maxis, but it'll be on a server in the US which will be slower for European visitors. In the future Maxis will also try to make it available in Europe. That way it gets more interesting for localised sites, as they will have visitors mainly from their country. They will experience a faster site when the server is located near them.
When?
This whole thing will become available soon. Unfortunately there isn't much more I can say about it, since the exact details, besides what I mentioned above, are still quite vague. Basically it'll be like any host, only free. Anybody running a website knows how it goes, and will be happy with Maxis starting this. Especially because with The Sims 2, the average filesize for downloads will be a lot bigger. They will take more bandwidth, which will cost more and more sites will have to worry about the costs without this solution. This is really going to help the community. Unfortunately the performance of the servers is unknown until they've been running for a while. I don't know if The Sims Zone will ever use Maxis Hosting yet, but it will be considered, especially when the bandwidth increases more and more. All news about that will be posted on the frontpage in time though. One of the main reasons we're not moving directly is because at the moment we're supporting the RGA as charity, where all our profits go. We won't be able to do this with Maxis hosting, simply because we're not allowed to make any money on the website.
Written at 22:50 on Tuesday 18 November 2003 by
ChEeTaH
.