Dreaming of Stardom
"Dominique Casey never wanted a normal 9-5 job. She didn't want to be another office drone or one of the billions in the simnation whose working life was a blur and flashed in the twinkle of an eye between leaving home to go to work and coming back. She wanted a life with excitement and glamour and wanted to rub shoulders with people in the limelight. She wanted to be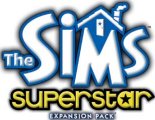 Heeding her call and that of the amount of players who wanted to see their sims at work, that is what Maxis have done with the latest expansion for "
The Sims
"
So did Dominique find the road to stardom trouble free?

Read on and you'll find out.
Studio Town - Where dreams are made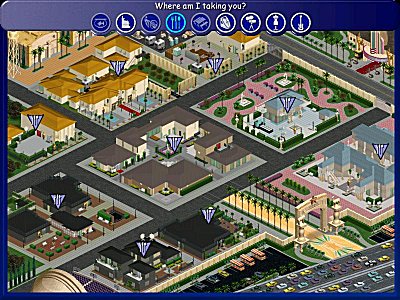 Studio Town
is a beautiful place filled with anybody watching somebody. Yes, that's it. Whereas "
Downtown
" gave us the "
Townies
", "
Studio Town
" now gives us two classes of people. Firstly, there are the "
Somebodies
", who are those who want to make a name for themselves and become Superstars. Secondly, there are the "
Anybodies
" who are the fans and tourists who frequent studio town, trying to catch a glimpse of the superstars as they work and unwind.
Studio Town is a complex of ten different lots, many of which are places to help the Somebodies work on their career from the humble karaoke bars and comedy clubs to the movie sets. There are also health spas and various eateries scattered around. Wherever you go, you have a chance of running into some really major celebrities. Marilyn Monroe is alive and well and living here as is Christine Aguilera. Also, if you're lucky, you might see Andy Warhol doing a photoshoot.
| | | |
| --- | --- | --- |
| | Tourist buses can be ordered from home for §50/trip to take you here but after a while, you might want to give it a go and become a celebrity yourself. | |
Being a Star
The papergirl doesn't just drop off "The Sim City Times" anymore. She also delivers a tabloid called "The Studio Town Insider", which gives a list of who is hot in Studio Town and the latest stories. It is through the STI that you can hire an agent and that opens up the employment opportunities within studio town.

Instead of it costing you §50 to call the Tour Bus, a limousine comes and picks you up to take you there.
Different parts of Studio Town offer you different opportunities to make money, but don't expect to be allowed to jump onto the movie set, the cameras to start rolling and you come home with big money. You've got to work your way there and be recognised in order to be allowed to try different things.
The ten bars of a career are now replaced with five stars, which fill ½ bar at a time from good performances, required skills and starpower. Each progression allows you to do something else and losing stars happens more frequently than being demoted in a normal sim career. Charisma, Creativity and Body seem to be the most useful skills to help you progress.
Also, you need to make friends. This time, it's not your neighbours, townies or people who you met on vacation who matter. It is making friends with fellow superstars who give you the pulling power. The higher the status of your celebrity friends, the further you can get. "
I'm friends with George Clooney
" carries more weight than saying "
I'm friends with George Wendt
". Most people would immediately prick up their ears with the first and only fans of the TV show "
Cheers
" might know the second and that he played the unemployed barfly Norm Peterson.
| | |
| --- | --- |
| Anyway, starting from stand-up comedy and karaoke that can command only §5 or §10 a set, you can move up through recording jingles, making commercials. doing ads for magazines, you can move up through working on a soap opera, doing photo shoots for prestigious clothing designers, doing your turn on the catwalk modelling the same, recording different types of music, making videos for them and ultimately being welcomed onto the movie set and being allowed to perform. | |
| | |
| --- | --- |
| | Previous work opportunities are not denied you as your career advances. You could be as A-Grade as George Clooney but still go and do a turn as a stand-up comic or a commercial for medical insurance. Also, Britney Spears could go and do a turn at a karaoke bar for a change in pace or record a jingle for a dog food ad. |
So what about our young starlet?

Dominque started off in karaoke and doing a little bit of standup comedy. Making friends with Joanne Somebody and Susan Somebody helped her career progress. She was able to do a few commercials, some jingles, some photo modelling and also did a short spell on the catwalk. However, her main passion in music and she is currently cutting rock singles at Midrock Records.
At home with the Superstar
Although Studio Town is a very beautiful place, your superstar wannabes can't stay there. They have to come home at some time or other to sleep. As time is frozen when they go to Studio Town and they are only allowed to go there once a day, you can't just come home, sleep and go back to work. You have to hang around at home for a while. You can improve your skills, invite your celebrity friends over, have parties, and generally green yourself up.
| | | |
| --- | --- | --- |
| | There are new items for your amusement, relaxation and skill improvement. Naturally, the higher the quality, the higher the price. Double the channels on your TV with the satelite dish, get a massage in the comfort of your own home, and go scuba diving in your own personal tank to name but a few. | |
| | | |
| --- | --- | --- |
| | It is not just the nice new objects that you have to spice up your homelife. If they've made it big, tourbuses pass by their house and fans get out, take a few photographs of the homes of their stars and get back in. Neighbours still pass by and could ask for your autograph, which is nice. You need your fans and need to give them attention. | |
Just when you thought the biggest nuisance on your lot is
El Bandito
, the neighborhood racoon, the price of being famous and not paying due attention to your fans and admirers comes in the form of the biggest pest of all.
If you don't pay your fans the attention they deserve, you will encounter the Obsessed Fan. He is quite a disturbing creature and appears everywhere you go. From being on set when you're working, if you're having a meal downtown, if you're on vacation or even just relaxing at home, he is there.
Looking through your garbage cans, taking photos of everything and anything around your house, he makes your life a misery. Fortunately, unlike the neighborhood strays, he does not come inside and pee on your shagpile carpet.

In order to get rid of him, you'd better pay your fans some more attention. Take your time, listen to them eulogising how good you are, give them your autograph and make a fuss of them. It's hard work, though.
However, for those who can afford it, their life at home is a lot easier with Albert, the butler. No good home should be without one. However, at §500 a day, he is not cheap.
| | | |
| --- | --- | --- |
| | He arrives first thing and you will have a cooked breakfast waiting for you when you get up. Also, he will call the maid and if necessary the gardener to come and tend to your property while you are at work. When you get home, a meal is waiting for you. He can also be instructed to make one as and when you require one but his other invaluable purpose is temporarily ridding your lot of Sim City's answer to Avid Merrion with a cuff around the ear. | |
Rough Cuts
As with all expansions to The Sims, there are bugs and Superstar is no exception. In my installation, I had save issues in Neighborhood 1 and traffic snarlups in Studio Town with a head and hands belonging to "Bartender Waylon", who is an NPC from "Hot Date", standing in the road.

Normally, we would take a couple of months for Maxis to come up with a patch. From what I understand, we'll have to wait until "Harry Potter and the Seventh Expansion" and buy it. In my opinion, this is a nasty ploy from Maxis to make us buy the last expansion before "The Sims 2" comes out. I am frankly disappointed in Maxis if this is the case.
It's a wrap!
Although this expansion is buggy, I have enjoyed it a lot. If you want your sims to make money directly instead of going to work via the carpool or becoming a gnome maker, this is a good alternative. Once again, this is an expansion with a difference and Maxis has added another component to enrich your Sims' playing style.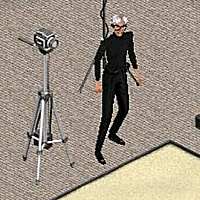 "I'm ready for my closeup, Mr.Warhol"
Written at 22:49 on Tuesday 22 July 2003 by Andy.
Complete Editorials Listing